Axie Infinity became one of the biggest games this 2021, more than 1.5 million players play it and the numbers are still rising. It is one of the very first games that legitimately pay you while you are playing. And of course, when there is money involved, thieves will find their way.
In this article, let's look at Trezor hardware wallet and how it can protect your precious AXS, Axies and SLP.
What is Trezor Hardware Wallet?
According to Bitcoin Wiki, Trezor is a single-purpose computer designed to protect your private keys from possible online and offline risks. It keeps the private keys away from the internet and confirms the transaction in-device. Trezor is the only hardware wallet device on the market that could support SLP and AXS tokens.
Right now, Trezor has two main models, The Trezor One and The Trezor Model T. The older Trezor One is a great choice, with the price of 55USD, you can't go wrong with it. Though a bit outdated, and lacks some features the Model T has, it's still an ideal choice for beginners who wants to try things out.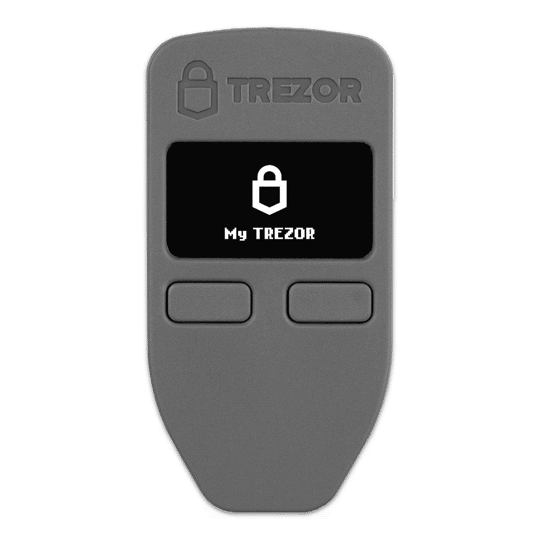 The newer Model T is a bit advanced, has an RGB LCD touchscreen and a bigger screen, it also has added features such as the FIDO2 Authentication and Shamir Backup, it comes with a 195USD price tag. Both devices can give you a top-notch level of security, and both can protect those hard-earned SLP's.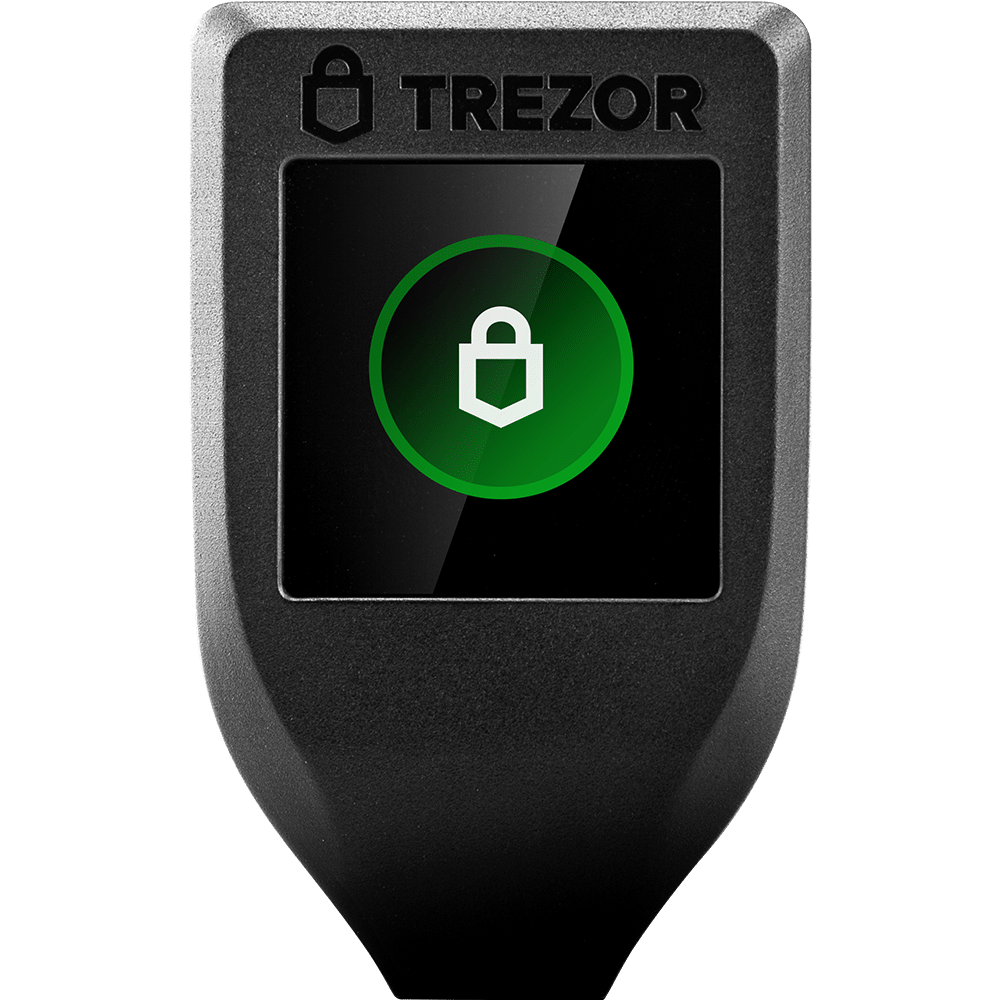 Connect your new Trezor Hardware Wallet to your Ronin wallet.
Once you've set up your Trezor hardware wallet and you're ready to go, let's take a look at how are you going to connect your Trezor to your Ronin wallet. Make sure to always plug in your device when doing this. First, log into your Ronin wallet, click the "My Account" tab,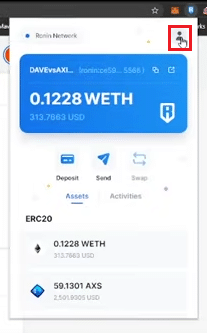 Choose "Connect Hardware Wallet".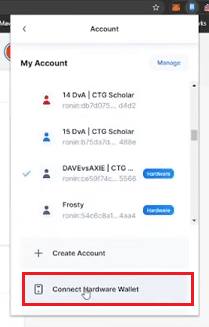 Then, this screen will appear, click "Connect Wallet".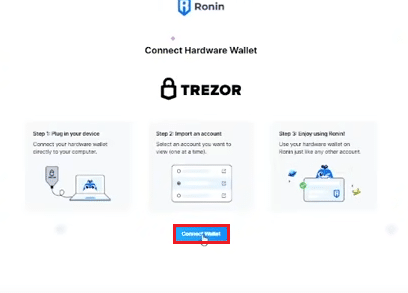 This popup will appear, click on "Export"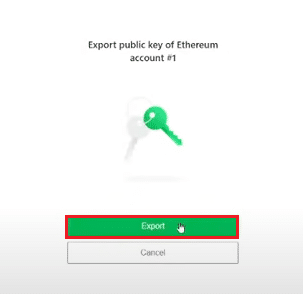 Now it will ask you to select an account to import, pick one, and just like any other account, you can pick whatever name that works for you.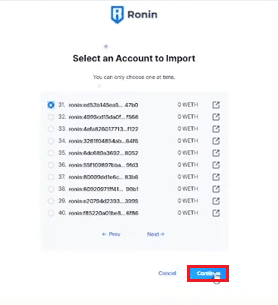 Then a screen will appear saying "Account Connected". After that, if you go to your Ronin wallet, and look at your accounts, you can already see the account that you imported from your Trezor wallet, you can see the "hardware", meaning the account is hardware protected. If you want another account, just repeat these steps.
Connect your new Trezor Hardware Wallet to your Metamask wallet.
Again, plug in your device and log in to your Metamask wallet. To the "My Account" tab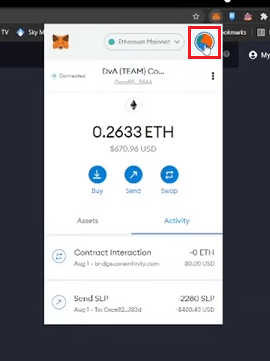 Click on "Connect Hardware Wallet".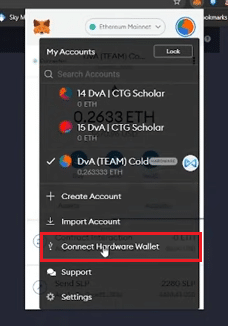 "Connect Wallet" then click Continue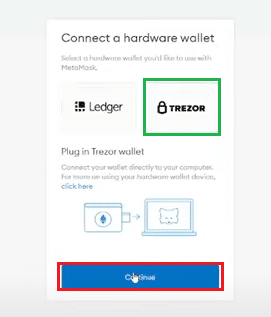 Then Export.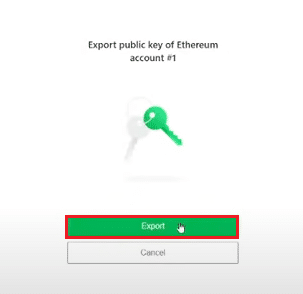 Now pick an account to import, pick one, and put whatever account name that you like. Just like in Ronin, if you want another account to be hardware protected, just repeat these steps.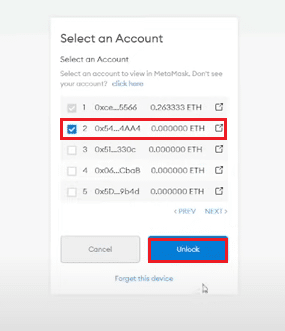 Transfer your AXS/SLP/Axies to your Trezor Hardware Wallet
Now that your wallets are connected, you can now get your Axies, AXS and SLP protected. To send SLP or AXS from wallet to wallet, first go to your Ronin wallet, choose the account where your SLP or AXS is, type in the amount that you want to send, then "Send", now choose an account that is Trezor hardware protected. Wait for the confirmation, as sometimes it would take a while. Please note that if you are going to send Axie from your Ronin wallet to Trezor, the Axie will reset and you will have to play again as level 1. Also, you have to manually do it 1 by 1, so if you're a manager and you have many Axies' it might take time.
Process your Trezor Transaction
With Trezor's heightened security, all of your transactions will appear on the small Trezor screen. Let's take a look at an example. Let's send SLP using Trezor Hardware wallet to another account. On your Ronin wallet, select the Trezor hardware protected address, now click Send.
Type in the number of SLP and the address you want to send it to, either a Ronin address or another hardware wallet then hit Next
It will direct you to the Trezor connect popup screen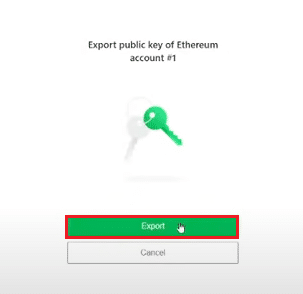 You will have to enter the PIN for your Trezor hardware wallet, the PIN is randomly generated, you will see it appear on your Trezor wallet screen, every transaction will give you a different number formation (tho you can set how often you want the numbers to reset).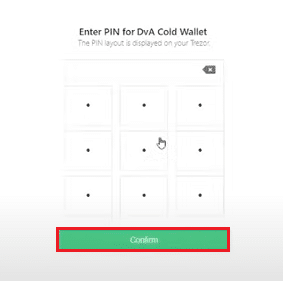 Now hit Confirm. A message will appear on your Trezor screen, asking if you want the transaction to proceed. Another 2 messages will appear on your screen about the data and the GAS fee, then hit Confirm to complete and that's it.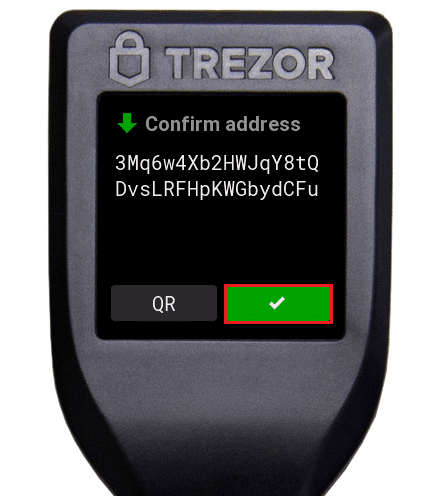 Other tips and tricks for protecting your SLP, AXS & Axies
Hackers lurk everywhere and Trezor can keep them at bay. Whether you are using the Trezor Model M or Trezor One, both are proven to give great security for your Axie accounts, SLP, or AXS tokens. In this day and age, it is only important to give protection to our virtual assets and Trezor can make that happen. There are a lot of hardware wallets in the market but only Trezor is Axie supported.
Also, here are some tips that could help you with the security of your Axie Infinity
DO NOT click any links that ask you to enter a seed phrase or connect your suspicious ronin wallet. ALWAYS double-check what site you are visiting.
DO NOT give up your seed phrase to anyone unless you want to lose all your hard-earned SLP.
BE AWARE of FAKE Ronin wallets and Metamask links. DO NOT click them or interact with them at all.
DO NOT download APK's that are pirated. You do not know what they're running!
Use a hardware wallet for extra security that is officially supported. DO NOT buy 3rd party ones! If you need advice ask us.
Write down your seed phrase and store it somewhere safe. If you lose it, we cannot help you restore your ronin wallet.
Be careful of giveaways that make you click links to redeem prizes. A lot of these are scams.
So what do you think about this article? Is it helpful? If so, leave a comment below!
Check out some of our latest articles!