With sports resuming right around the corner and the majority of live events in esports have been cancelled due to the global pandemic going on. Esports has had quite an interesting run over the last few months. Many say esports is the only sport and let's get these estonks. Some say esports will fade into the background again. I'll speak about the topic at a very high level and give my thoughts.
The tl;dr would be – Short term, yes covid has impacted the industry in a positive and negative way. Mid term, good recovery / plateau, Long term I'm still bullish on the industry.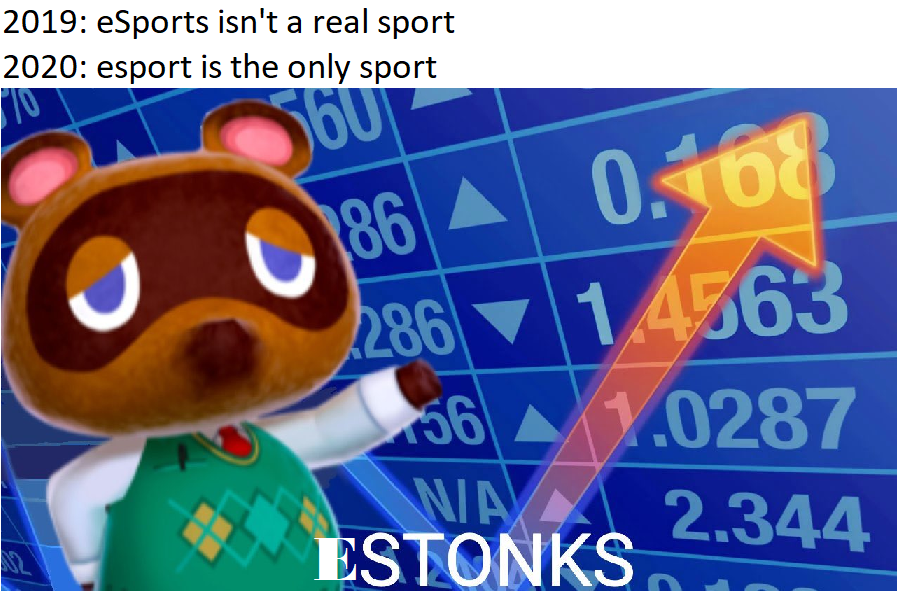 When covid first hit, there'd be a steady stream of cancellations. Everything from The International, Apex Legends, Rocket League, ESL. You name it, it was more than likely cancelled or postponed to a later date. Things were looking really grim overall for esports. However, a flurry of online events have popped up and you can watch a large esports event around the clock. You could watch F1 drivers race, watch charity covid streams and heck, even the Dota 2 BEAT Invitational returned after a 3 year hiatus (wow.. ps that's my old company xd). The harsh reality is that covid is a global pandemic and having a blanket statement of "esports is doing well across the industry" would be a tough sell. There are certain pockets of the industry that have adapted quite well. For example, Waveform (an esports production company based out of Toronto & Montreal) has shifted to online events and according to sources "are busier than ever". However, as with any industry, there will be other companies that have layoffs and tough times during this pandemic. If I had to compare esports vs sports in terms of normality during the pandemic, I'd give esports an 8/10 with most companies pulling through in tough times with a strong positive outlook.
Does this mean esports is flavour of the month for many viewers? I'd say no. Esports is still at its infancy. The entire industry is $1.1 billion in revenue. Yes, you read that correctly. The ENTIRE industry. That's including publishers, major developers etc. The actual revenue is more than likely much smaller when you exclude the major players. Here's a list of some cannabis and their associated revenues. Their expected growth as an industry is expected to reach $73.6 billion by 2027 to put it into perspective.
Aphria – $55 m last quarter
GTI – $75.8m usd last quarter
California pot sales – $3b (2017)
Canopy Growth – $80m last quarter
This doesn't include profitability. Esports has a long way to go on generating long term revenue with solid margins as a whole (similar with cannabis). There are some exceptions in the industry but the overall revenue model needs to mature. In the grand scheme of things compared to other industries, esports has quite the while to go but things are encouraging. In Canada, multiple groups are popping up with reverse takeovers, leagues, production companies and more. Unfortunately, things are quite early here in Canada and lag behind the general trend in esports. If you're looking for a job in esports you may be hard pressed to find something specifically here. However, that shouldn't stop you from networking in esports internationally or doing your own thing for experience. If I had to put a number on it, Canada is roughly 2 years behind overall the US which is behind Europe and Asia.
Overall, more eyeballs on esports is a fantastic thing. The outreach I've received in the last few years with people interested in the industry is always exciting. Since covid has happened it's died down but we're still at the beginning. In my mind, the more people involved will in turn help the industry mature, grow and get that mainstream support that will help it reach the next level.
What do you think? Was esports heavily impacted and what do you think the long term outlook on growth is?