Today i'll talk about how to market your event or tournament in esports. There's no one way to do it so I'm going to list my own experiences and best practices. If you haven't already, check out my things to look out for in esports while planning an esports event, project budgets and how much esports tournaments may cost, dealing with pro teams and getting sponsors.
For the record, the largest amount of views I've personally done is around 8 million total reach over 4 days (across two brands, excluding team reach) and around 110,000 concurrent viewers on twitch.tv and 3,000 in a hockey arena. I'm OK at marketing my own events, I'm not a huge social media person so there's definitely individuals who are much more suited to this! OK, enough talking about me, let's get started.
Get teams committed and involved. The bigger the better.
If teams are participating in your tournament. Get them to announce and retweet your post. Ask for a verbal commitment from them. Generally, teams are wayyy more active than tournament organizers in posting content so them announcing a tournament is going to be good for their brand and yours.
The bigger the teams, the bigger the reach. However, if this is your first tournament don't expect to get all of the biggest teams right away. You have to cater your pitch to the team and esport you're participating in. Ie, Overwatch is very different than Dota 2 which is very different than NBA 2K etc.
Announce early your esports event early, but not too early
Announcing early is great, it builds some hype and allows you plenty of runway to get going. Unfortunately, if you announce too early viewers may forget about your tournament. For online tournaments I find that around 2 weeks prior is a good point for most with some follow up posts a few days before.
Have your tournament graphics and release materials ready
Get graphics, get release materials, get a press kit for your website and more. Here's some examples of graphics we used during the BEAT Invitational.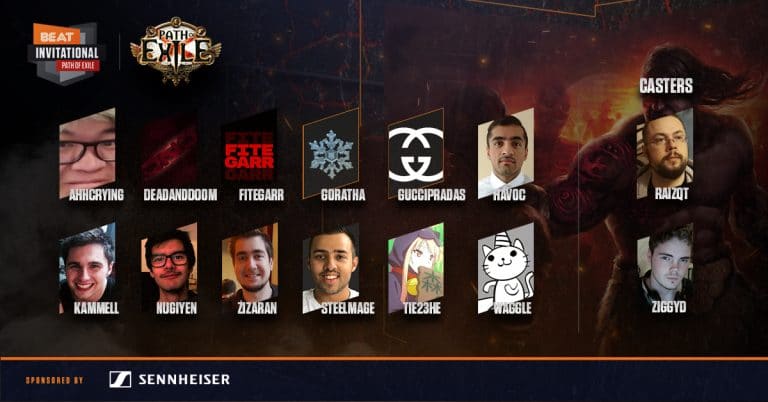 Contact endemic media to promote your esports event (if you're starting)
Share your press kit, all the materials with a press release they can use and ask if they'll cover the event. Chances are, they may say yes. They could say no as well depending on the tier of the event. Doesn't hurt to ask!
Avoid major patch days
Don't drop your announcement on a major patch day or near any patch! It'll get buried.
Research best timing to announce (know your audience)
If I am an North American tournament organizer, I am not going to post my tournament announcement during EU primetime or when North America is asleep. I'm going to post it during a quiet period in the prime of NA where there's limited noise so I can maximize my reach.
Post it everywhere
Post on twitter, facebook, tiktok, insta, reddit etc. Get the word out. Chances are the first few times you post you're going to get shot done for being trash. You'll get thick skin over time but general tips are:
Know your audience – Developer just dropped a shit patch and players are pissed? Probably not a good time to announce your tournament
Speak their language – Embrace their memes. Show them you're one of them
Time your post – Ie, Dota 2 reddit is primarily from Europe. I wouldn't post an NA tournament announcement in primetime CEST.
Ask the publisher for support
If you have a relationship with the publisher, ask for what support they can give. Here are two examples of tournaments we did with Blizzard Entertainment and GGG (Path of Exile).
https://overwatchleague.com/en-us/news/22553159/the-beat-invitational-rides-again
https://www.pathofexile.com/forum/view-thread/2496933
The publisher has some extensive reach so getting them to post it on their channels (socials, website, retweets, potential video embeds in players, viewer drops etc) is absolutely key. Take advantage of the relationship you have and see what they can do.
If you don't have the relationship, try and build it. Chances are if you're a tournament organizer you're going to need a license eventually so reach out. Read more on publishers in esports.
Do a gradual team announcement
Announce teams one by one? Sure, make it all about the team you're announcing and hope it gets posted to reddit, twitter etc. If you're starting out people may not care but in the future it's a good best practice. You could also do a full announcement of all the teams but a few may get lost in the shuffle. Balance is key!
Put on a good show
Putting on a good show and have a tournament that players enjoy, audiences love and publishers are happy with is honestly the biggest part of it all. You can do all of the above and everyone hates your tournament potentially. Listen to your audience, the players and publishers and you'll do well!
There you have it, some tips and tricks to promote your esports event. What do you think? If I missed something feel free to reach out. As always, If you have any questions leave a comment or contact me!